Tarboo Watershed Conservation Strategy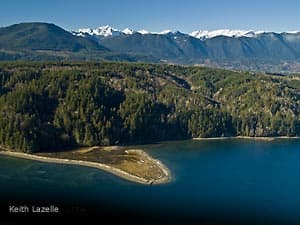 As part of the Tarboo Watershed Program, NWI is working with partnering organizations and willing landowners to accomplish three major habitat conservation initiatives:
This combination of actions is a whole watershed strategy for ensuring the longterm recovery of the habitats and ecological systems that sustain the diverse life and economies of Tarboo Creek and Tarboo-Dabob Bay. The three objectives are discussed below. 
1. Protect and restore a stream and wetland corridor from the headwaters of Tarboo Creek to the Bay.
The 7,000 acre Tarboo Creek Watershed contains a low gradient valley, rolling forested hills, and the spectacular estuary of Tarboo-Dabob Bay. Tarboo Creek's mainstem is about 6 miles in length. The mainstem and its major tributaries provides habitat for wild coho salmon, fall chum salmon, resident and searun cutthroat trout, and historically, steelhead salmon (a federally threatened species). Like most of the stream valleys of western Washington, the Tarboo valley's forested wetlands were cleared for agriculture beginning in the late 1800s. Tarboo Creek was straightened and its associated bottomlands were drained. Tarboo Creek offers an outstanding opportunity to restore extremely productive and diverse wetland and stream habitat for salmon, wildlife, and other at-risk species, such as western toads.
In 2001, Northwest Watershed Institute initiated the Tarboo Watershed Project, in partnership with Jefferson Land Trust (JLT), four Tribes, state and federal agencies, and willing landowners. JLT now holds eight conservation easements held by eight different landowners on 544 acres along approximately three miles of the mainstem and East Fork of Tarboo Creek. Much of this acreage is being restored to productive wetlands and salmon habitat by NWI. One of the properties protected by a JLT easement is the 316 acre Tarboo Wildlife Preserve, NWI's center for field research, environmental education and restoration. An additional 158 acres of very high quality riparian habitat and floodplain wetlands on lower Tarboo Creek is owned and protected by Washington Department of Fish and Wildlife as a critical habitat preserve, for a total of 702 acres protected within the corridor. However, approximately one-half of the riparian area along the mainstem of Tarboo Creek and riparian areas along many tributaries remain unprotected. The goal of this project is to continue to secure conservation easements or fee simple acquisitions from willing landowners to protect the entirety of the riparian and wetland corridor along the mainstem of Tarboo Creek and major tributaries.
2. Dabob Bay Natural Area Conservation – work with project partners and willing landowners to protect and restore lands within the proposed boundaries of the Dabob Bay Natural Area.
Dabob Bay is recognized as one of the highest quality, least developed large bays remaining in Puget Sound. The bay supports rare saltmarsh plant communities on coastal spits, eelgrass beds, salmon, shellfish, and a diversity of marine and estuarine species, as well as large expanses of intact forests along the steep shorelines. Dabob Bay is also one of the most important shellfish growing bays in Washington and home to the Taylor Shellfish hatchery, one of the largest shellfish hatcheries in the world. Shellfish farming represents the major type of agricultural activity in Jefferson County. Oyster farming became established in the early 1900's around the Hood Canal communities, and today this industry represents nearly 75% of the Jefferson County's market value of agricultural products sold.
For many years, NWI has been one of the leaders in the effort to better protect Dabob Bay's extraordinary habitats and natural resources. In the spring of 2009, after an intensive one-year scientific assessment and extensive public hearings, Peter Goldmark, Commissioner of Public Lands, approved a greatly expanded proposed boundary for the Dabob Bay Natural Area. The new boundary was supported by a broad coalition of local and state conservation organizations, shellfish growers, local landowners, and county, state and federal representatives. The boundary was expanded from 350 acres to 6,287 acres (3,975 acres of upland and 2,312 acres of aquatic lands).
The Dabob Bay Natural Area boundary is for administrative, not regulatory purposes; it gives Washington Department of Natural Resources (DNR) approval to pursue grant funding and acquire lands from willing landowners within the boundary. The boundary also allows DNR to use the Trust Land Transfer (TLT) process to transfer state timber land into Natural Area management. The State legislature approved more than $10 million for TLT funding in the 2007-09 and 2009-11 bienniums for Dabob Bay. As of July, 2009, DNR has successfully transferred all state timber lands remaining within the boundary into natural area protection.
Within new boundaries of the Dabob Bay Natural Area, the Jefferson Land Trust, Nature Conservancy and DNR now protect about 2500 acres. However, more than 1,000 acres of private land remains unprotected, including more than 50 privately owned parcels. About one-half these parcels remain undeveloped, with many landowners interested in selling. Northwest Watershed Institute, Jefferson Land Trust, and The Nature Conservancy continue to work in partnership with DNR to seek grant funding for acquisitions from willing sellers. In general, undeveloped properties are a priority for fee simple acquisition for long-term ownership and management by DNR as part of the Natural Area, while parcels that already have a house or other development, but retain significant habitat values, could potentially be permanently protected by conservation easement on the undeveloped portion of the property. 
3. Sustainable Forestry in the Tarboo Watershed – Protection of forest land from development by fee simple acquisition or conservation easement with willing landowners.
Thousands of acres of industrial forestland drain to Tarboo Creek and Tarboo-Dabob Bay, with Pope Resources and DNR being the largest landowners. Because the Tarboo watershed is midway on the continuum between the lands at higher risk of development near the Hood Canal bridge and the more remote forest lands to the east, there is a narrow window of opportunity to protect large tracts of forestland at relatively low cost. Protecting the forest land base of the watershed is essential to prevent stormwater impacts related to residential development that could undermine the conservation gains made to protect riparian areas, wetlands, and Dabob Bay. This project involves working with project partners to obtain fee simple and/or conservation easement acquisition of large tracts of forestland suitable for sustainable timber production from willing sellers and permanently protecting it from more intensive development.